I don't think it's crazy of me to say that cookies are synonymous with the holidays. They're at parties. In stores. At the annual cookie exchange with your neighbor. Maybe you keep a small sleeve of them in your bag to snack on while driving or sitting wherever you may be sitting. I don't do that. Not me. Nope. You probably have a full calendar for every weekend this month (maybe more!) and, chances are, you need to bring a dozen cookies or so! December is the busiest month of the year and you may or may not have time to make those cookies. Don't sweat it! We've got you covered. Today I'm sharing the easiest tips ever for decorating store-bought macarons for the holidays. Everyone loves a macaron (remember how obsessed we are?!) and they'll probably love them even more after you've given them some mini makeovers! These babies were purchased at Costco and are everything a macaron should be. You can totally leave them as is, but where's the fun in that?! Let's be extra today. BONUS — I teamed up with a bunch of my faves on the internet and we are each sharing a recipe for yummy cookies so be sure to check out all those links at the bottom of this post!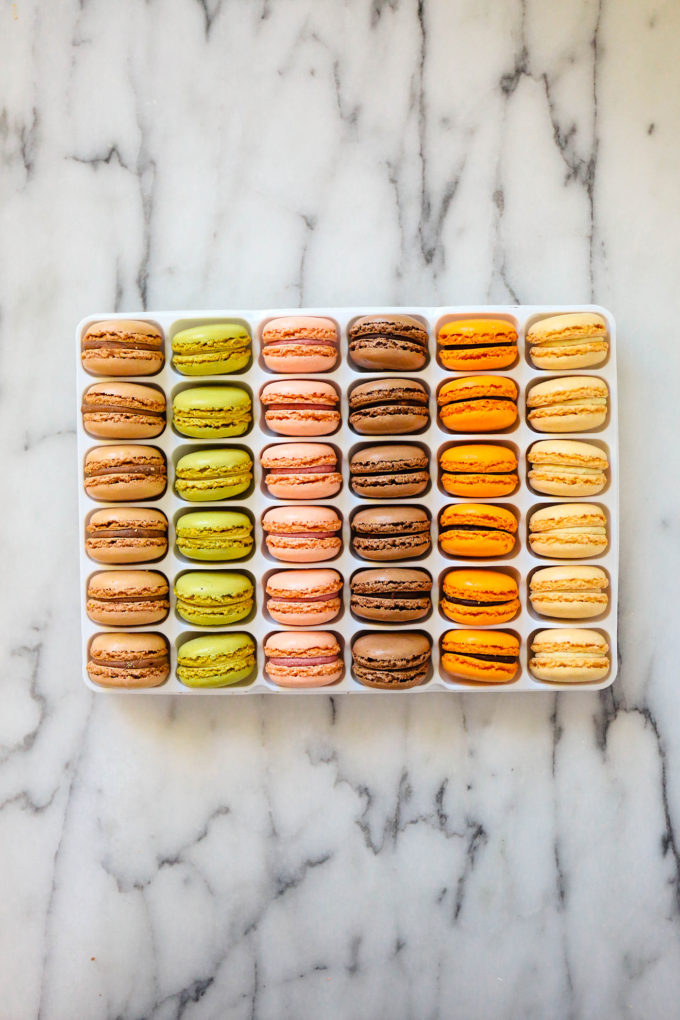 I was shopping at Costco the other day and saw this box of macs just sitting there on the shelf all ordinary and whatnot. I immediately thought about taking them home and dressing up each flavor. This box is great as it has a lot of the good intro flavors to get someone hooked on macs if they've never had them.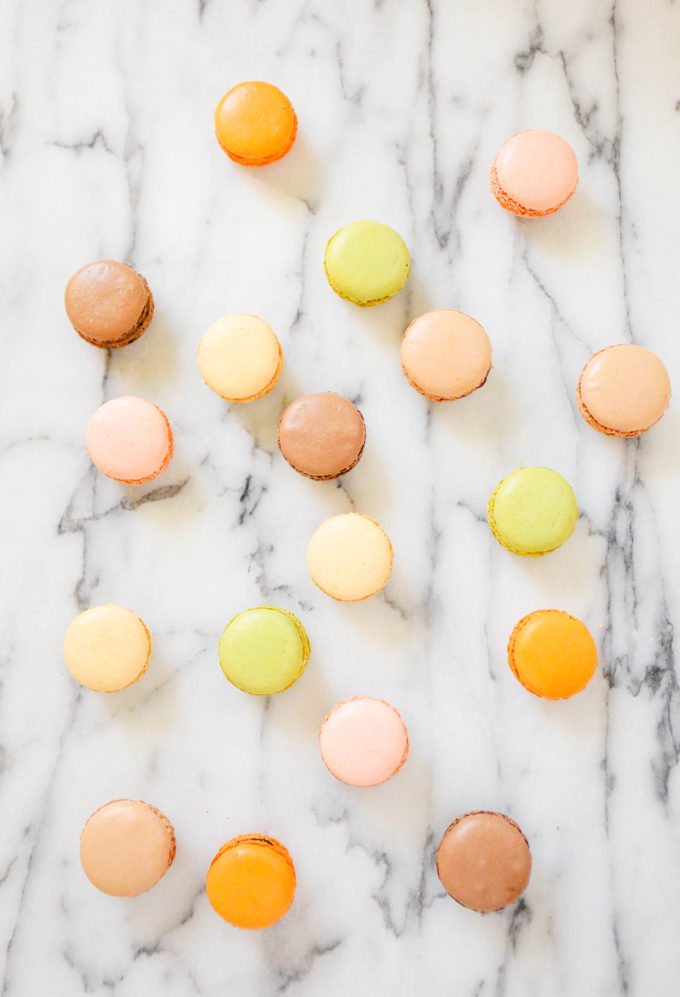 So we've got 6 flavors to work with: milk chocolate, pistachio, cherry, dark chocolate, chocolate orange, and vanilla. 
Dark Chocolate and Crushed Peppermint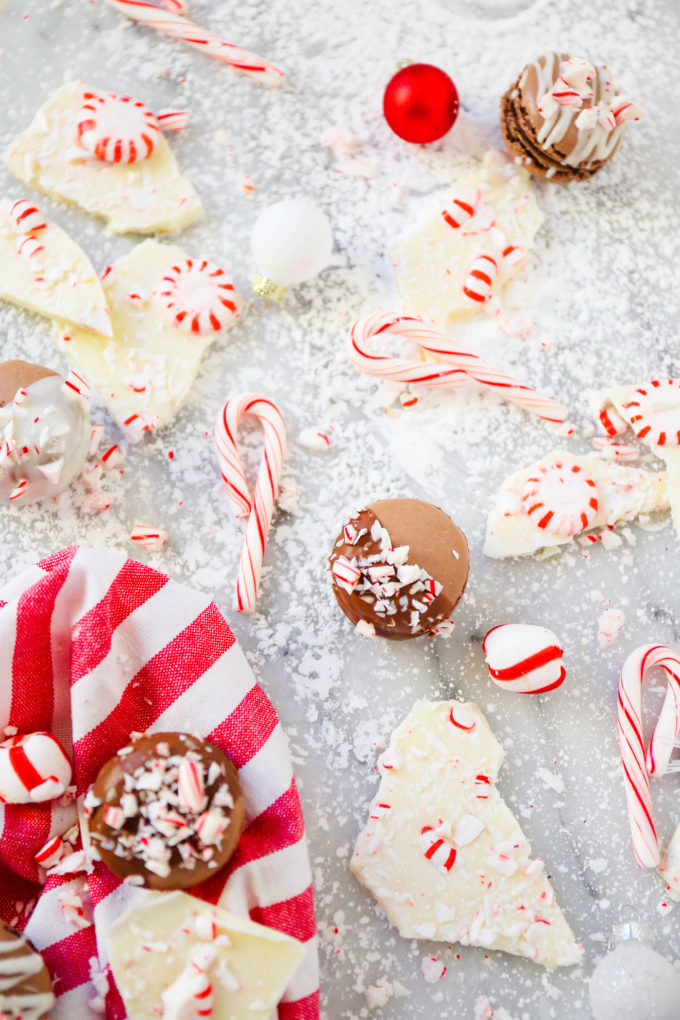 Let's start off with the holiday superstar, dark chocolate and peppermint! I'm partial to dipping in white chocolate, but the milk chocolate/peppermint combo is just too much to handle! So many folks love peppermint and it just oozes holiday spirit. Vita had a blast making these ones. She basically ran to put her apron on and start smashing up some candy canes. Those little red streaks just tug my my heart strings! Simply melt some white and dark chocolate and then drizzle it over the macarons. We dipped a few halves in the chocolate and then placed some of the peppermint on top. A box of these babies will win over a.n.y.o.n.e. 
Pistachio Macarons with White Chocolate
We took the pistachio macs to another level by dipping half in white chocolate and then adding crushed pistachios. You can also get artsy and drizzle the chocolate over the mac as well. This one might be my favorite as far as tastes go. I'm a sucker for pistachio!!! And then put these babies in a mini gift box and tie a bow!

Cherry with White Chocolate and Bespoke Sprinkles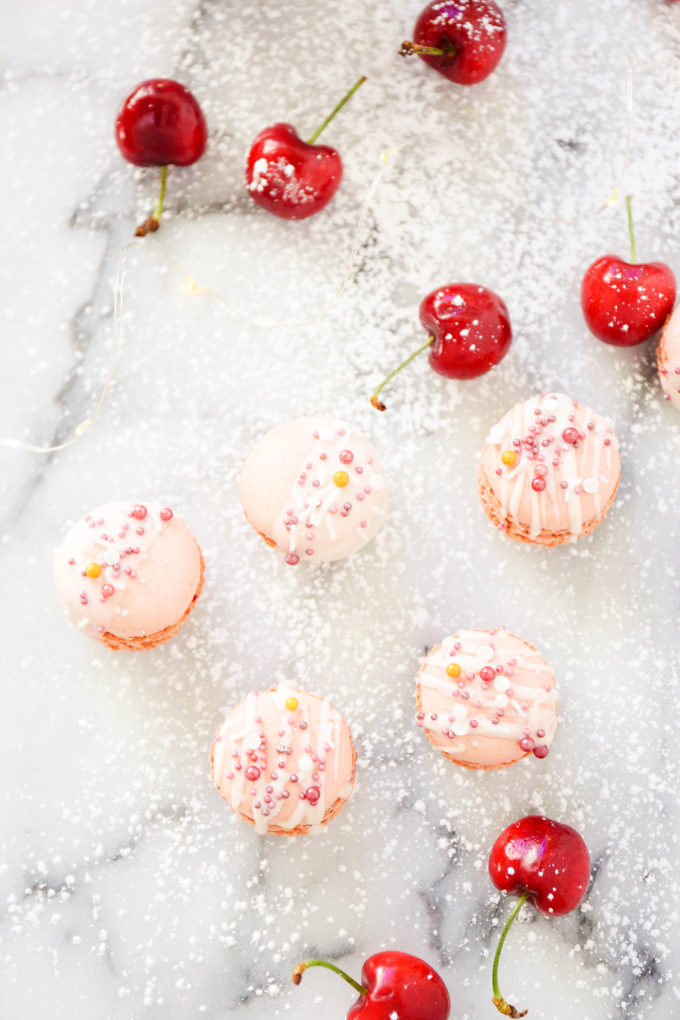 The cherry flavor is already pretty strong, so we didn't want to do anything over the top regarding the flava-flave. A little white chocolate and some bespoke sprinkles dressed these up so much! They're almost too pretty to eat! *almost*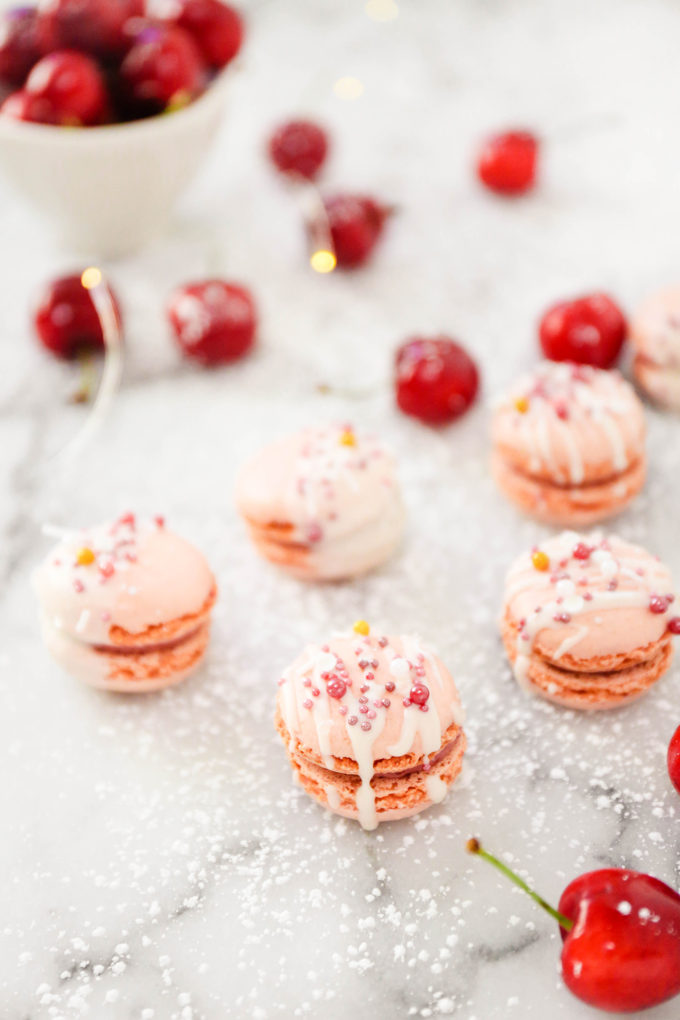 Chocolate Orange with Ganache and Candied Orange Slices
The orange and chocolate probably took the most time as we added some chocolate ganache and then topped with candied orange slices. To make, the orange slices, bring 1.5 cups of water and 1/2 cup sugar to a boil. Add slices of orange and let them boil for about 25 minutes, turning and stirring occasionally. Reduce the heat to low and let the orange simmer in the syrup for another 10 minutes or so. Remove from the syrup and lay on a cooling rack to cool and set up. Sprinkle with sanding sugar and then add them to your macs! 
Vanilla with Salted Caramel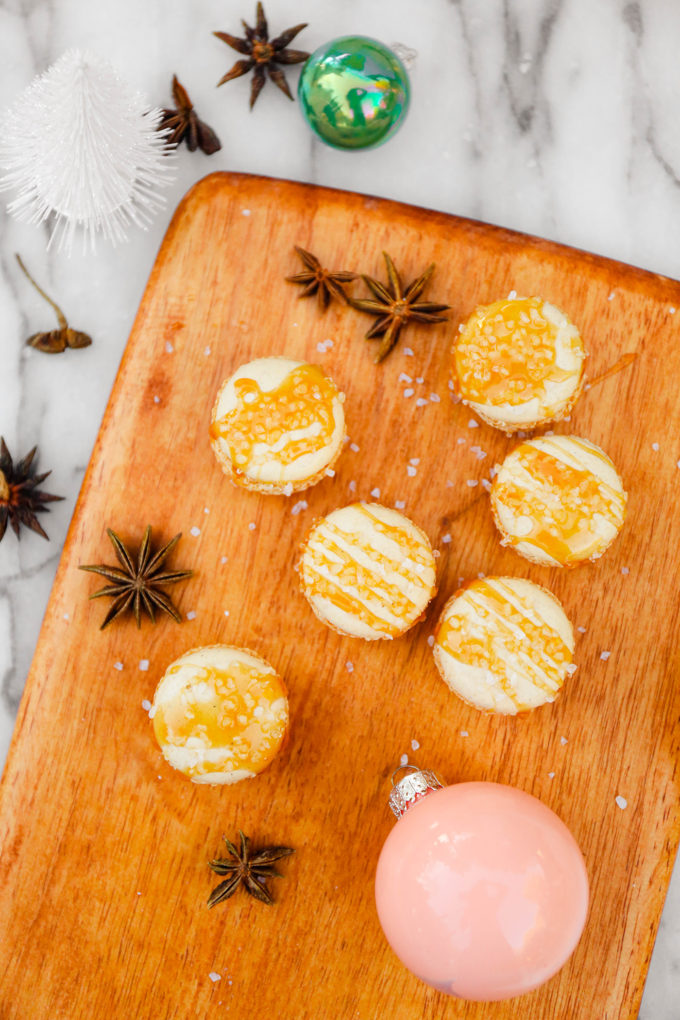 The vanilla macarons are delicious on their own. But you know how people feel about caramel and salt. These were just begging to be covered in everyone's favorite sweet and salty combo. We covered the tops of each with some soft caramel (use ice cream topping to make things REALLY easy!!!) and then sprinkled some sea salt and sanding sugar on the top! 
Milk Chocolate with Ganache and Chopped Pecans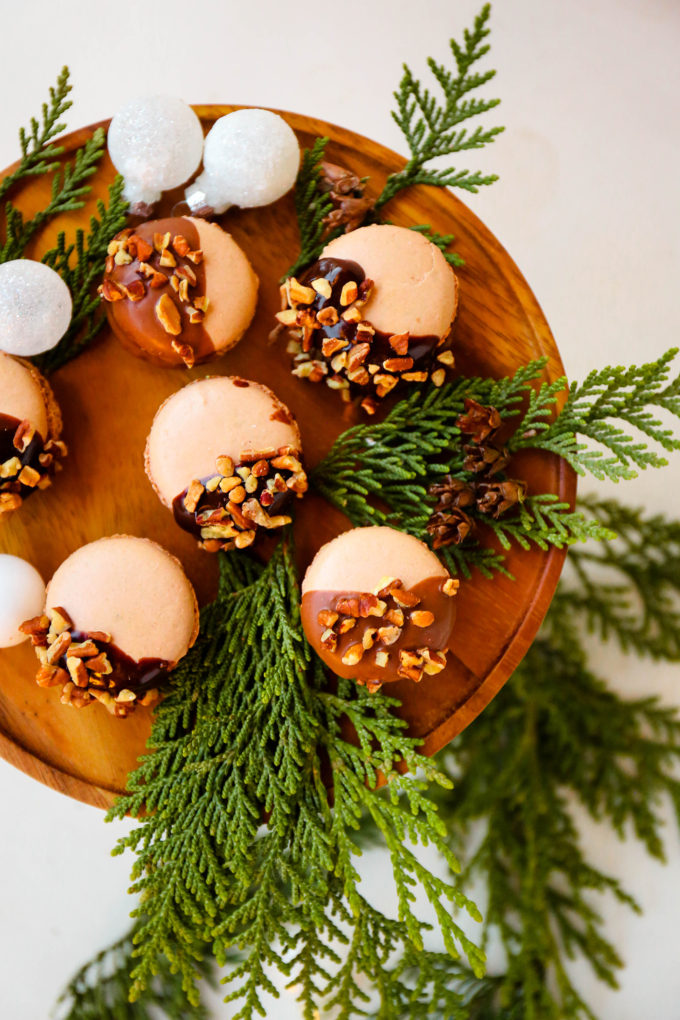 Give the milk chocolate macarons a little pizzazz by drizzling some melted chocolate or hot fudge topping and then sprinkling a dash of crushed pecans. Yum!
And there you have it! 6 yummy cookies that are total show-stoppers! There are loads of ways to do it and now you're a pro at decorating store-bought macarons! And just in time for the holidays!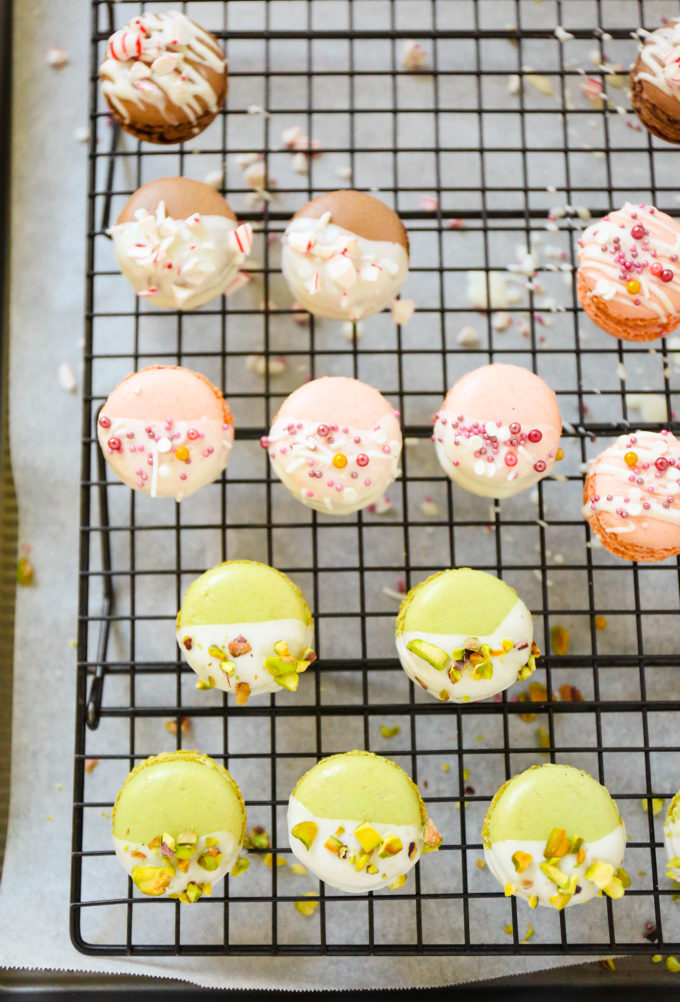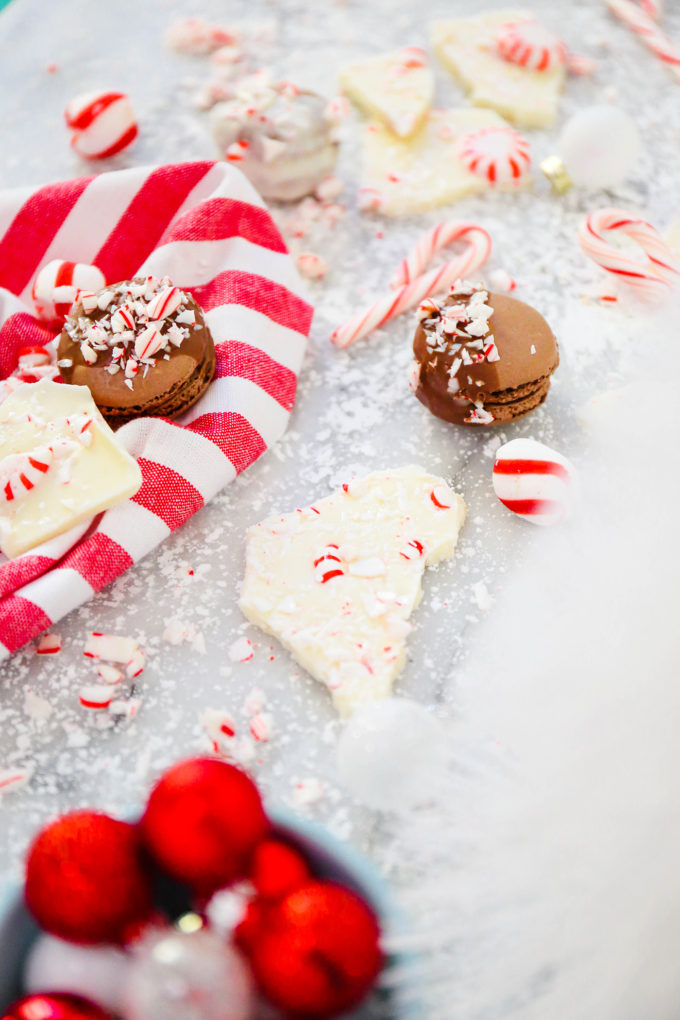 Be sure to check out the links below for all the other delicious cookies! The titles alone will have you salivating!!!! We're here to help you up your cookie game so you can win all the cookie contests this holiday season! 
Latte Joy Espresso Cookies by Julie Blanner
Fudge Dipped Double Chocolate Peppermint Cookies by The Sweetest Occasion
Classic Frosted Cutout Sugar Cookies by Freutcake
Mini Gingerbread Alphabet Cookies by Lovely Indeed
Gingerbread Egg Nog Cookie Sandwiches by Paper & Stitch
Christmas Sprinkle Cookie Cups by Inspired By Charm
Iced Vanilla Bean Sugar Cookies by Pizzazzerie
Chocolate Linzer Cookies by The Effortless Chic
How To Make Holiday Wreath Meringue Macarons by Sugar & Cloth
And in case you're looking for more holiday cookie inspo, check out our floral gingerbread cookies or these ornament-painted macs! <—- This one comes with a whole treasure-trove of free printables too! Happy making and baking! 
photography \\ Lexy Ward