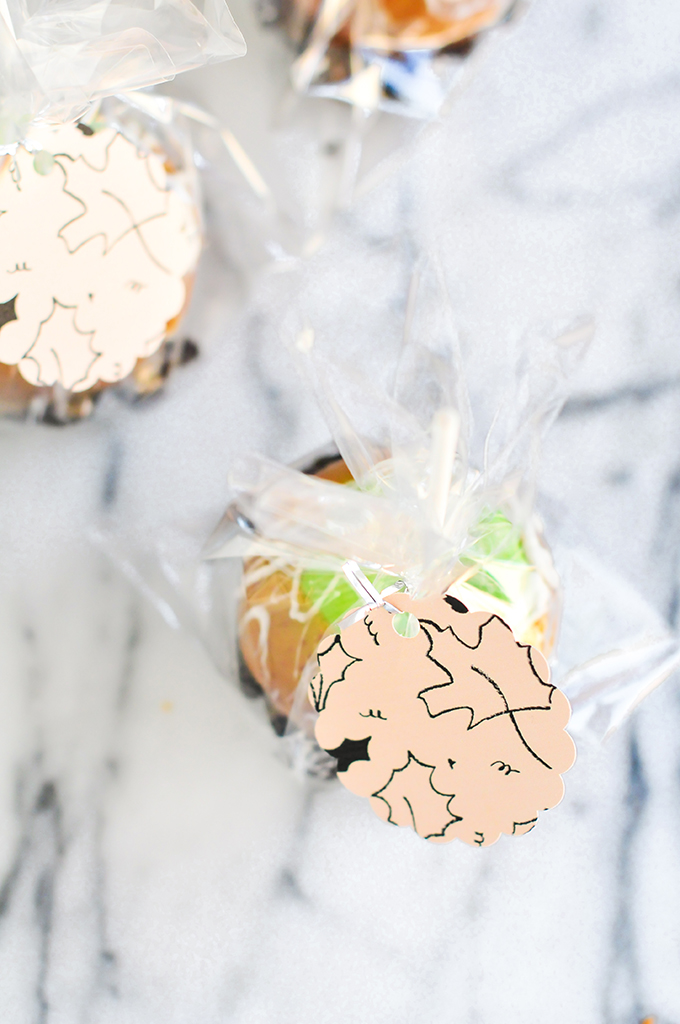 November is all about fall for me! The leaves change, the weather cools down, and it's pies, apples, hot cocoa and all-manner-of-sweets galore. I'm totally okay with that. Every year, I like to make a huge batch of homemade caramel apples and deliver them to anyone I cross paths with. So naturally, I usually just make them and stay home so I can eat them all myself. Pre-diabetes, of course! I feel the need to better your autumn and that's exactly what today is about! We've sharing this easy caramel apple recipe PLUS a harvest-themed printable for you to package them up with! Your friends will think you've really outdone yourself.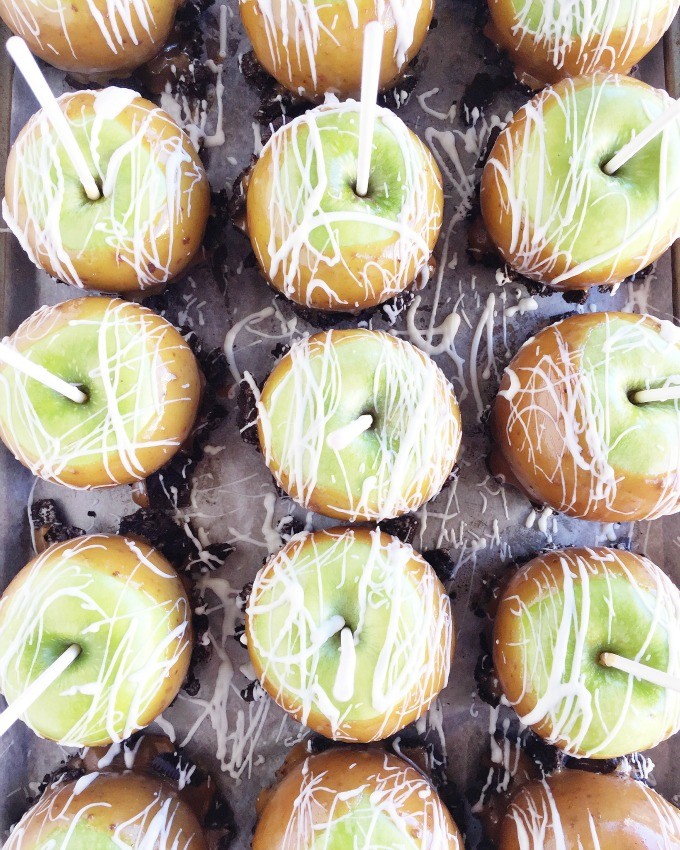 To make the caramel apples:
20 Granny Smith apples

1 cup butter
2 cups brown sugar
1 14oz can sweetened condensed milk
1 cup light corn syrup
2 teaspoon vanilla extract
1 cup white chocolate (candy coating works, too!)
1 1/2 bags Oreos (crushed)
lollipop sticks
Start by washing the apples and drying thoroughly. Place a lollipop stick in each and place on a wax paper-lined cookie sheet.
Place the crushed oreos in a large mixing bowl and set aside.
In a large saucepan fitted with a candy thermometer, melt the butter, brown sugar, milk, and corn syrup. Bring to a boil over medium-high heat. Stir frequently and keep boiling until the temperature reaches 250 (firm ball stage). Remove from heat and stir in the vanilla. Dip each apple in the caramel taking care to let the excess caramel drip off the bottom and back into the saucepan. Dip the bottom of the each apple into the crushed Oreos and place back on the cookie sheet to cool. Once you've dipped each caramel apple, place the cookie sheet in the refrigerator to help the caramel set faster.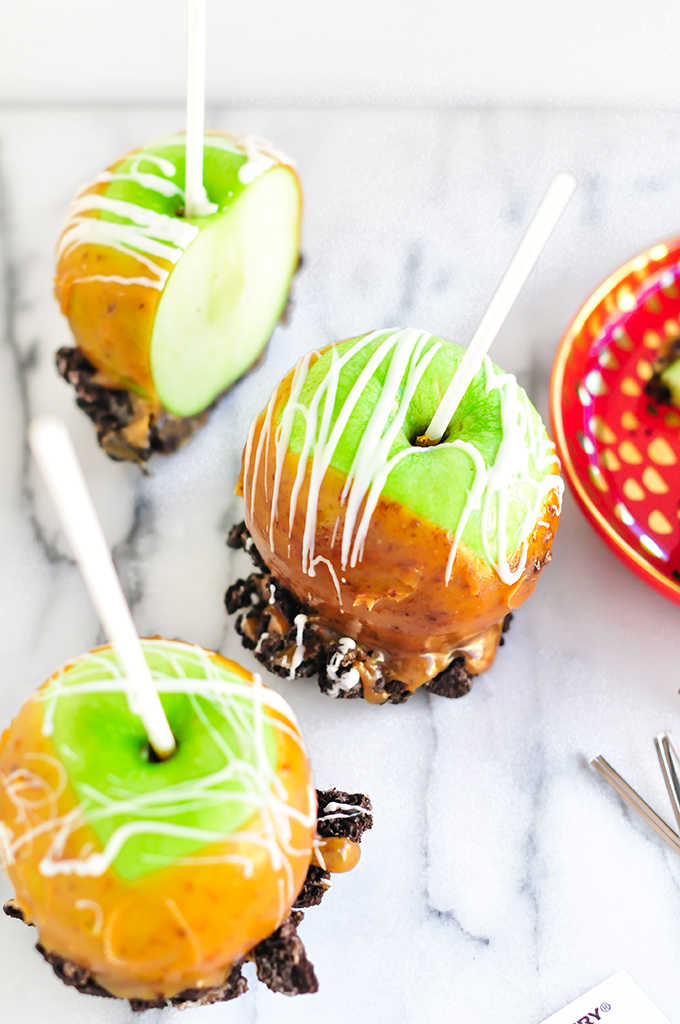 After the apples have refrigerated for about 45 minutes, melt the white chocolate in a small bowl. Now, you can pour the chocolate into a pastry bag fitted with a tip and pipe the chocolate onto the top of each apple. Or you could be lazy like me and just melt the chocolate, dip a fork in it, and wave the fork back and forth above the apples to allow some strings of chocolate to fall on the top of each apple. It's just an easier shortcut.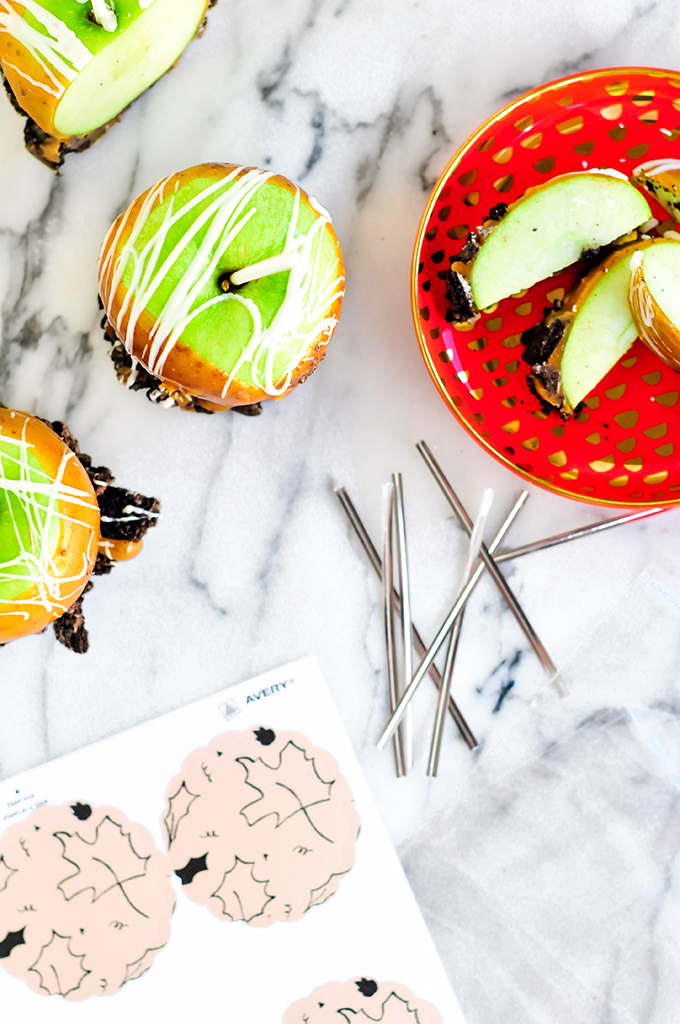 Let the chocolate set by placing the apples back into the refrigerator. Now it's time to package!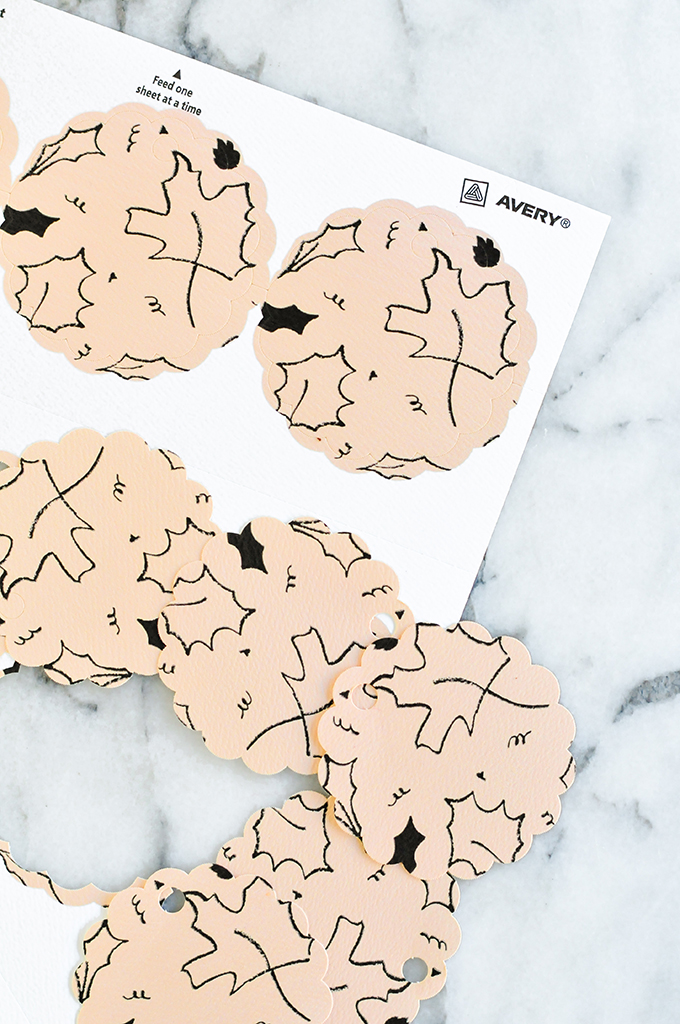 Download these harvest tags (download and instructions at the bottom of this post!) and punch out.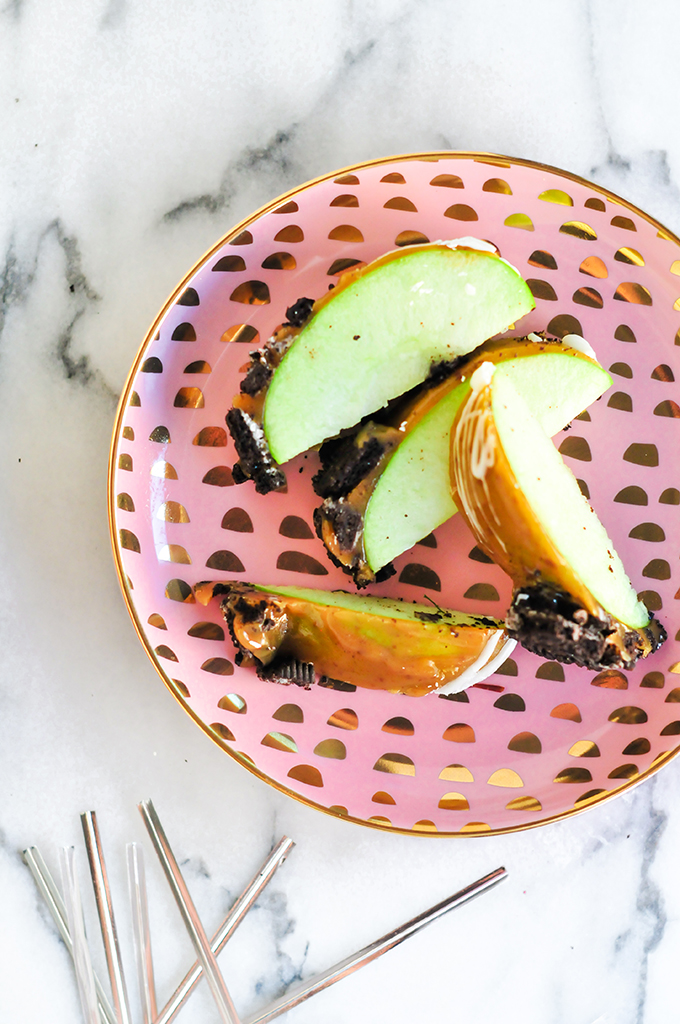 \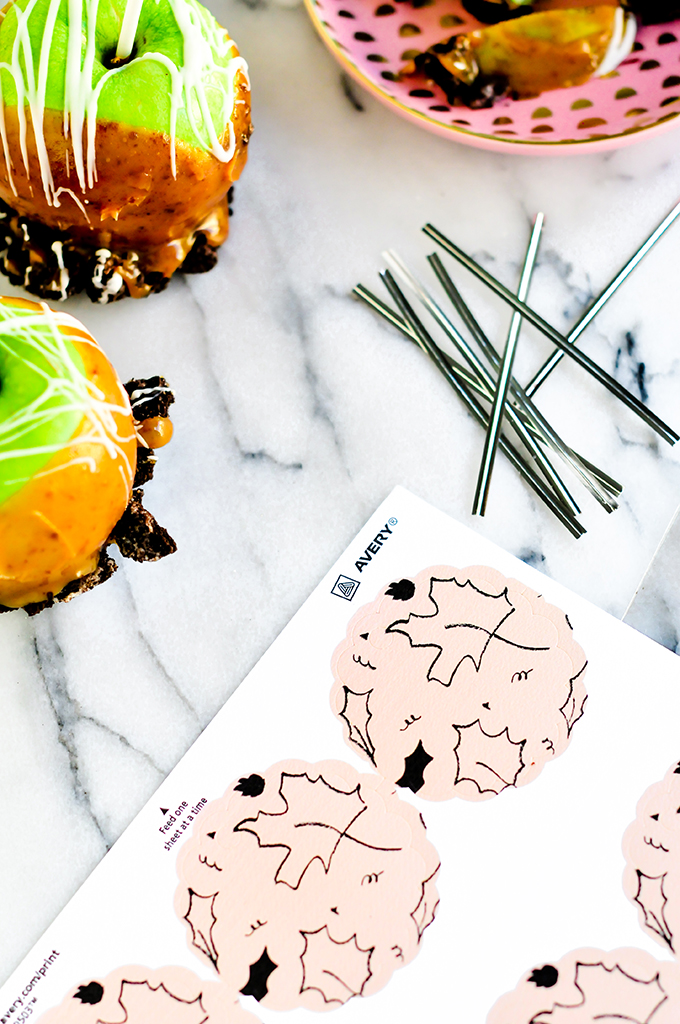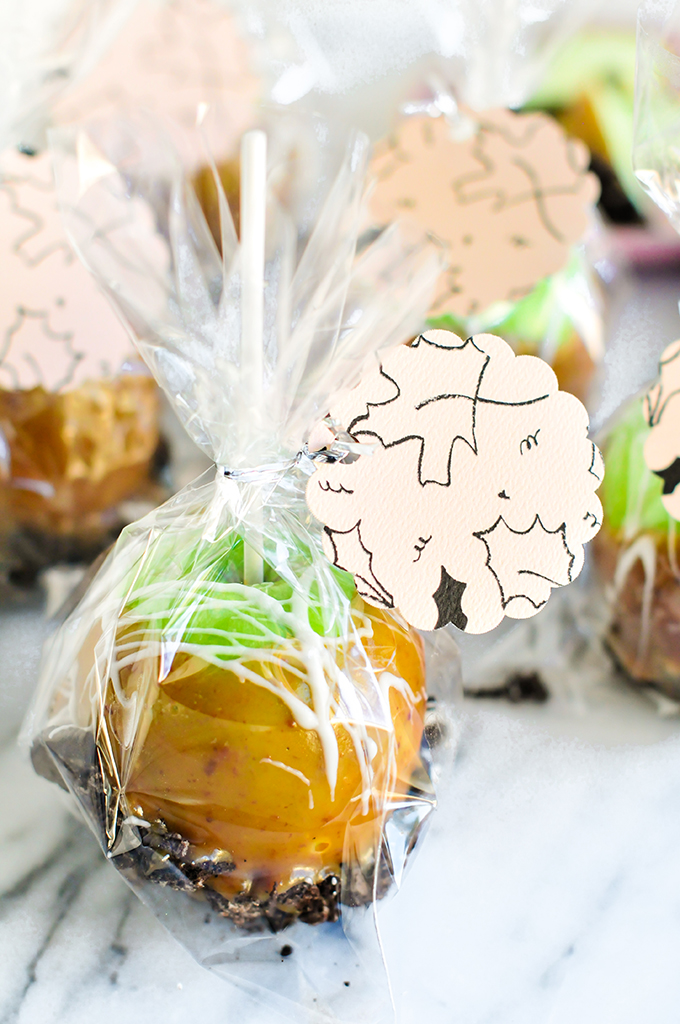 Wrap each apple in a small cellophane bag and tie off with a silver twist-tie and these harvest tags. Deliver to the masses (read: yourself) and pat yourself on the back for a job well done.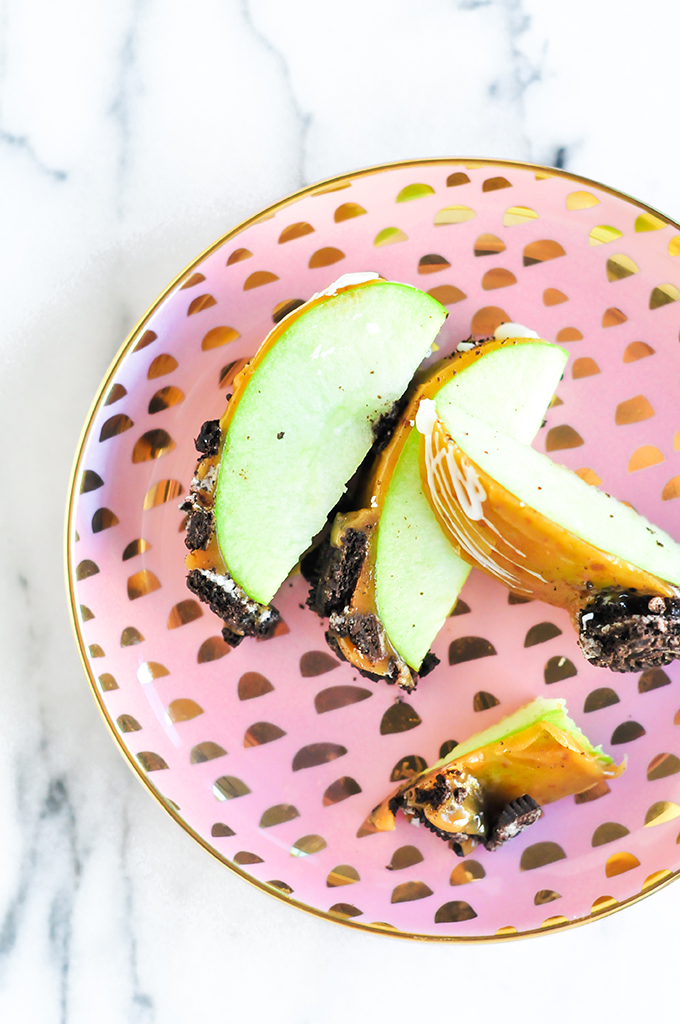 It's totally normal that I just eat the caramel and cookies off the skin and leave the apple, right?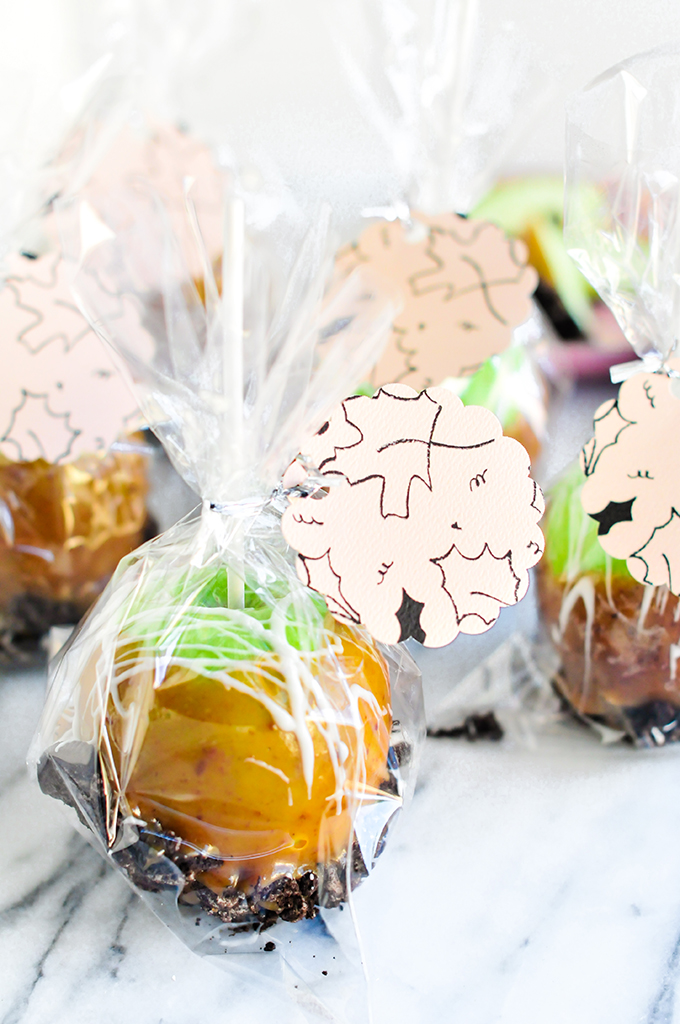 To print these babies out, simple click the link below. Download my design and save it to your computer. **Because this is an Avery file, it may seem like the file is broken or didn't work, but it will open up if you go to www.avery.com/open to open the file using Avery Design & Print Online. Personalize the design and then print on Avery Textured White Scallop Round Tags (80503). It will open right up for you to adjust for printing!
DOWNLOAD \\ Peach & Black Leaves
Check out some of our other printables in partnership with Avery like this printable ornament gift wrap and these printable gumball Valentines! And if you love watercolor, you'll dig this wedding stationery! We've got a bunch of printables heading your way for the holidays so stay tuned! And follow us over on Instagram (@theproperblog)to see sneak peeks of the goods!
This post is in partnership with Avery, a company that believes in bringing beautiful labels to the masses. Thank you for supporting the brands that help Proper create fun and inspiring content!
design, styling, & photography \\ Lexy Ward