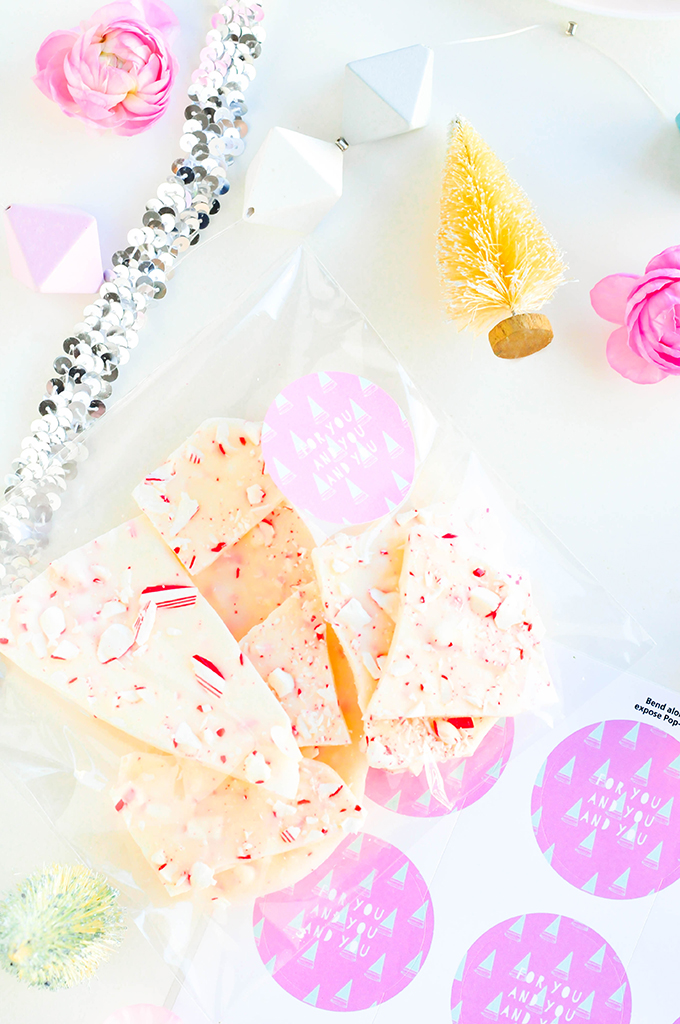 I absolutely love this time of year. Mostly because it's time to make treats and it's perfectly acceptable to deliver them to the masses. Nobody judges you if you bring them a pound of toffee as long as it's in December. Right? I love packaging the treats. Probably more than I love baking the treats. Along with our annual toffee delivery, I decided to make some peppermint bark for those who favor the red and striped sugar cane. It's a total recipe hack because it literally takes 120 seconds and you're done. And if you slap one of these cute mod tree printable treat labels on them, well, then, you're golden in my book! Get the free downloads below!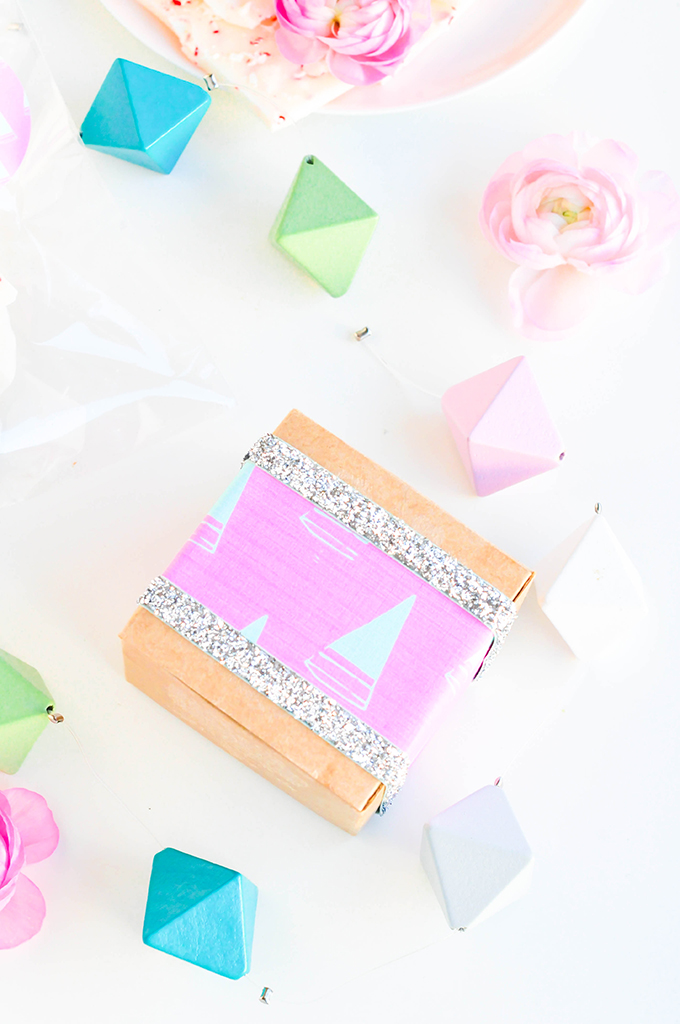 Supplies needed:
To make the peppermint bark, simply crush 4-5 candy canes in a plastic bag. Place them in the bag and use a large glass cup or rolling pin to crush them into course little pieces. Set those aside. In a medium microwave bowl (hey, tupperware), melt a bag of white chocolate chips, or a block of white melting chocolate. Make sure to do it in the microwave at 30-second intervals so it doesn't burn!
Once the chocolate is melted, stir 3/4 of the crushed candy canes into the chocolate and mix well. Pour the chocolate out onto a wax paper-lined cookie sheet. Spread the chocolate out to the edges and sprinkle with the remaining crushed candy. Allow the chocolate to set! If you're in a pinch for time, toss the cookie sheet in the freezer for ten minutes. 

Break up the chocolate and place a few pieces in a cellophane bag. Print out a sheet of these tree labels (download at the bottom) and stick one on the front of each bag.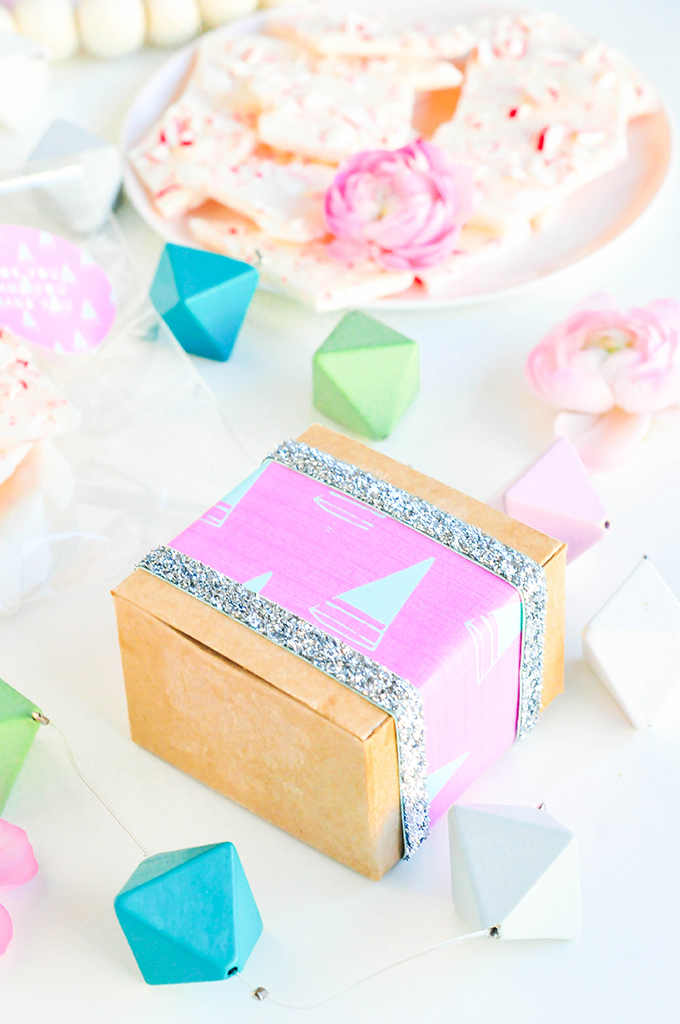 Print the wraparound labels and attach them to a cute kraft box and add some glittery ribbon for flair.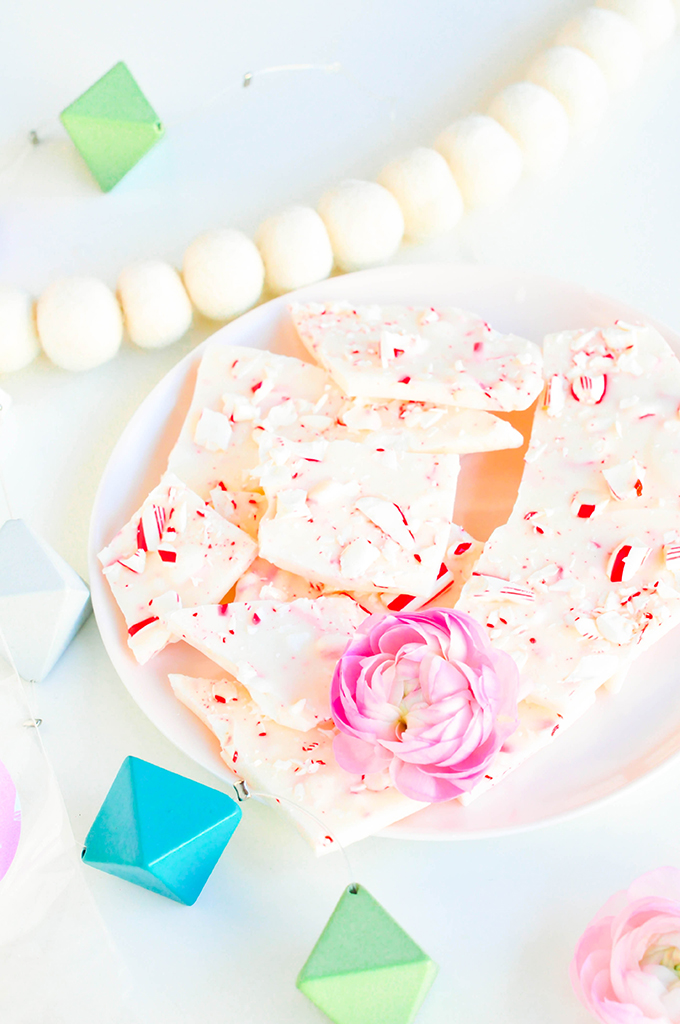 Be sure to set aside some peppermint bark for yourself! Ya gotta look out for yourself during the holidays, kids.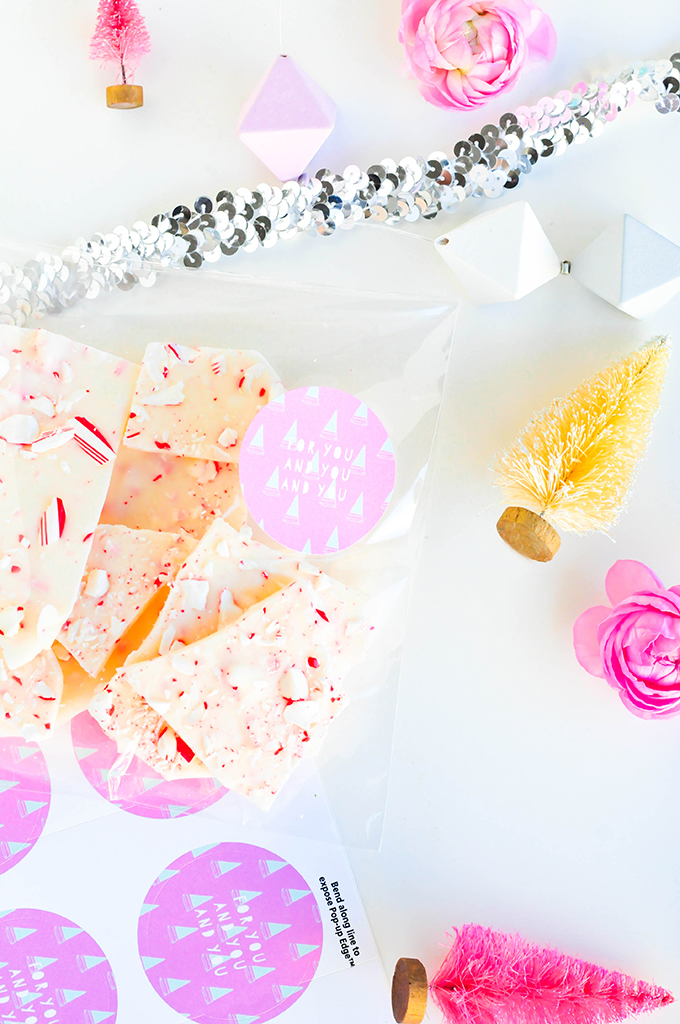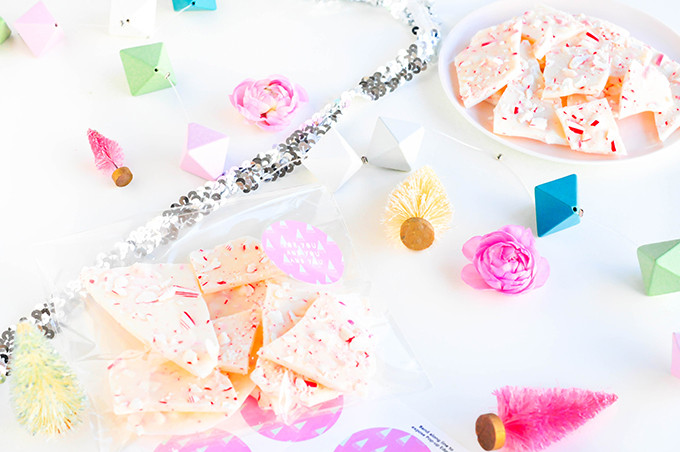 Deliver to all of your pals and watch them go wild.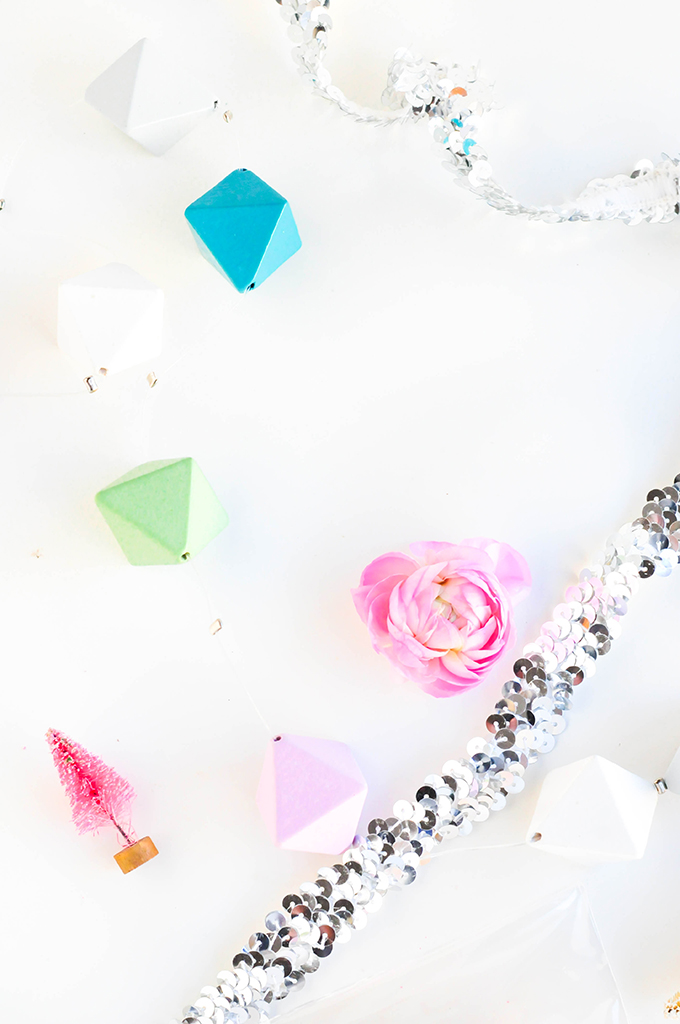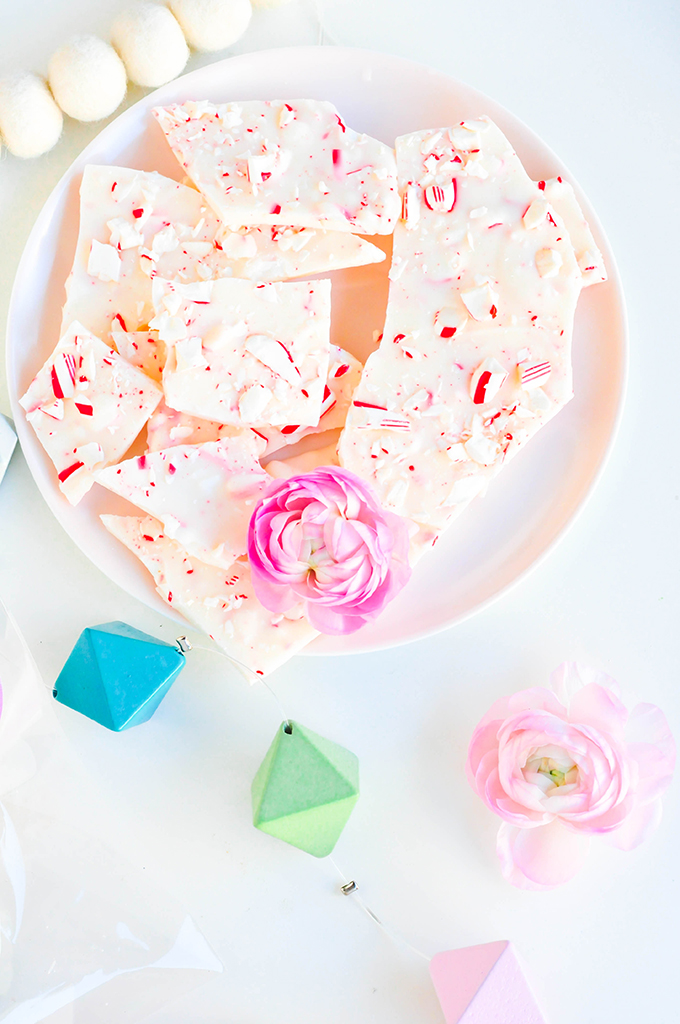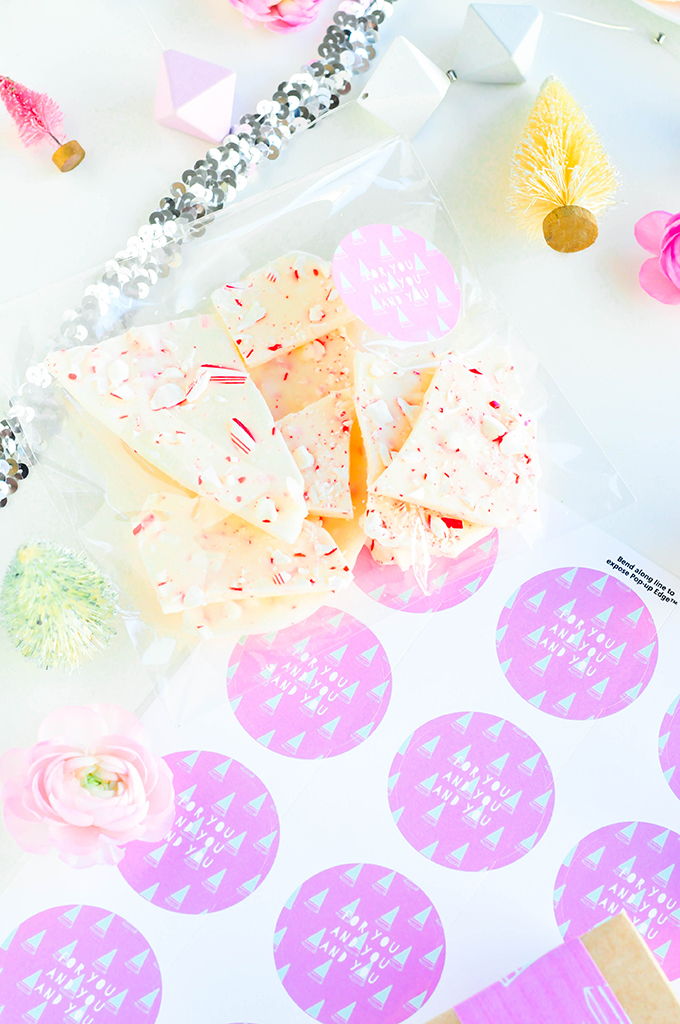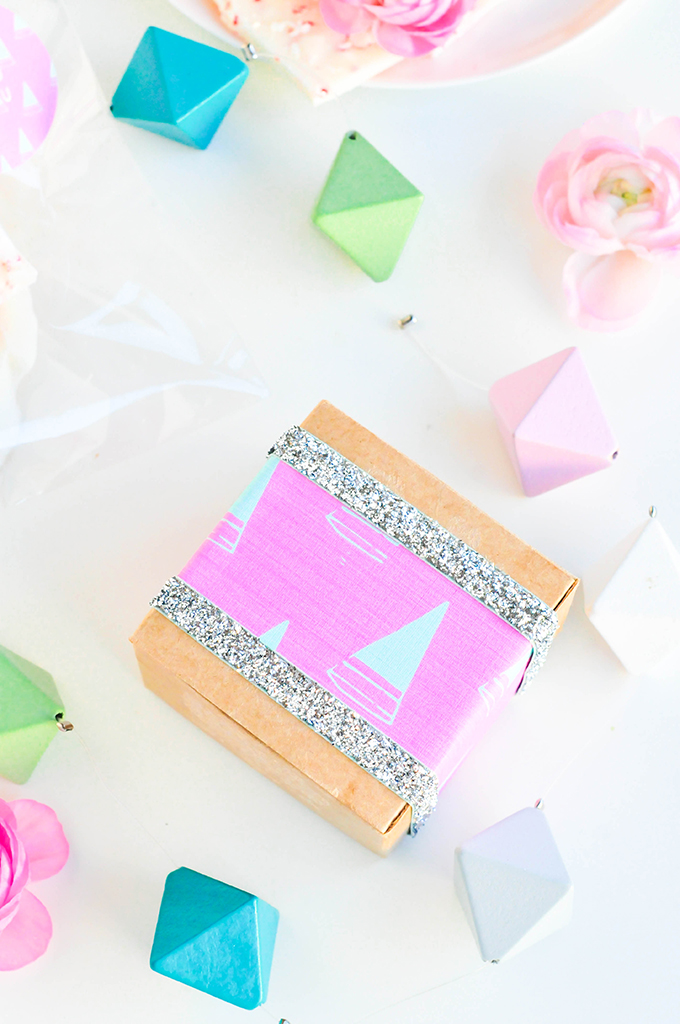 To print these babies out, simply click the links below. Download my designs and save them to your computer. Then go to www.avery.com/open to open the file using Avery Design & Print Online. **Because this is an Avery file, it may seem like the file is broken or didn't work, but it will open up if you go to www.avery.com/open to open the file using Avery Design & Print Online. Personalize the design and then print on Avery Print To The Edge Round Labels – 22807 & Avery Wraparound Labels – 08217. It will open right up for you to adjust for printing!
DOWNLOAD \\ Round Mod Tree With Text
DOWNLOAD \\ Wraparound Mod Tree Without Text
Check out some of our other printables in partnership with Avery like this printable ornament gift wrap and these printable gumball Valentines! We've got a bunch of printables heading your way for the holidays so stay tuned! And follow us over on Instagram (@theproperblog)to see sneak peeks of the goods!
This post is in partnership with Avery, a company that believes in bringing beautiful labels to the masses. Thank you for supporting the brands that help Proper create fun and inspiring content!
design, styling, & photography \\ Lexy Ward