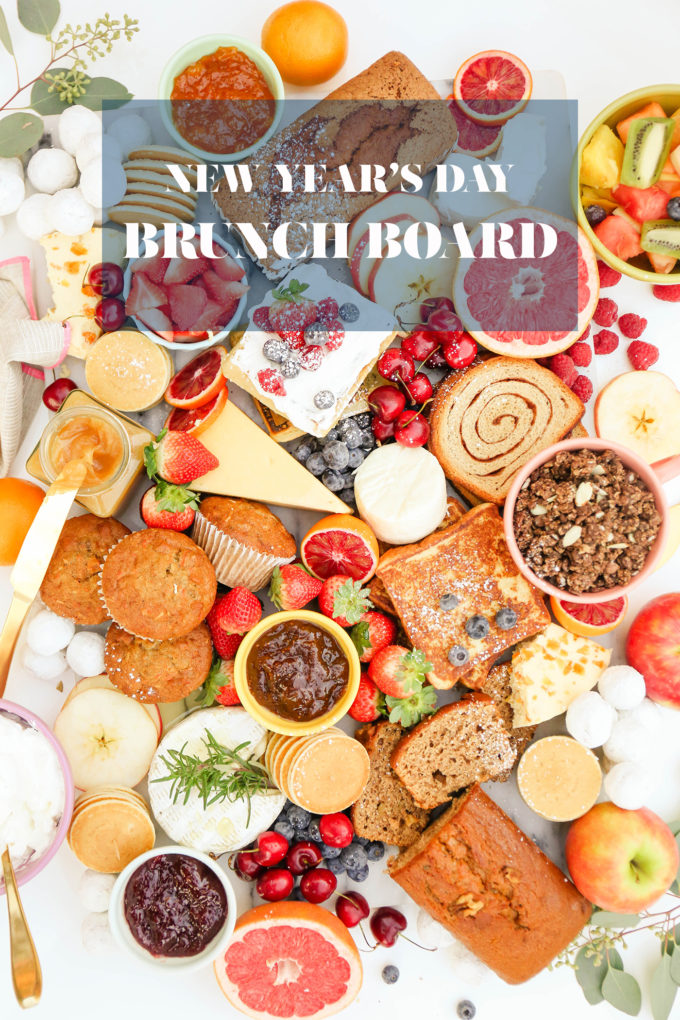 We all know that when it comes to the holidays, I'm here for the food. Although I am now a Type 1 Diabetic, carbs will always have a special place in my heart. And my stomach. This New Year's Day brunch board is the perfect pick-me-up after a night of celebrating and ringing in the new year. (That's the polite way of putting it. wink wink.) I love a beautiful meat and cheese charcuterie, but wanted to try something a little sweeter and this brunch board seemed like the answer! You can snag everything at the store a few days before, and if you can cut up some fruit and pour jam and fruit spreads into jars, well then you're already a master at the brunch board! Let's talk about the simple and ridiculously easy setup of this guy, shall we?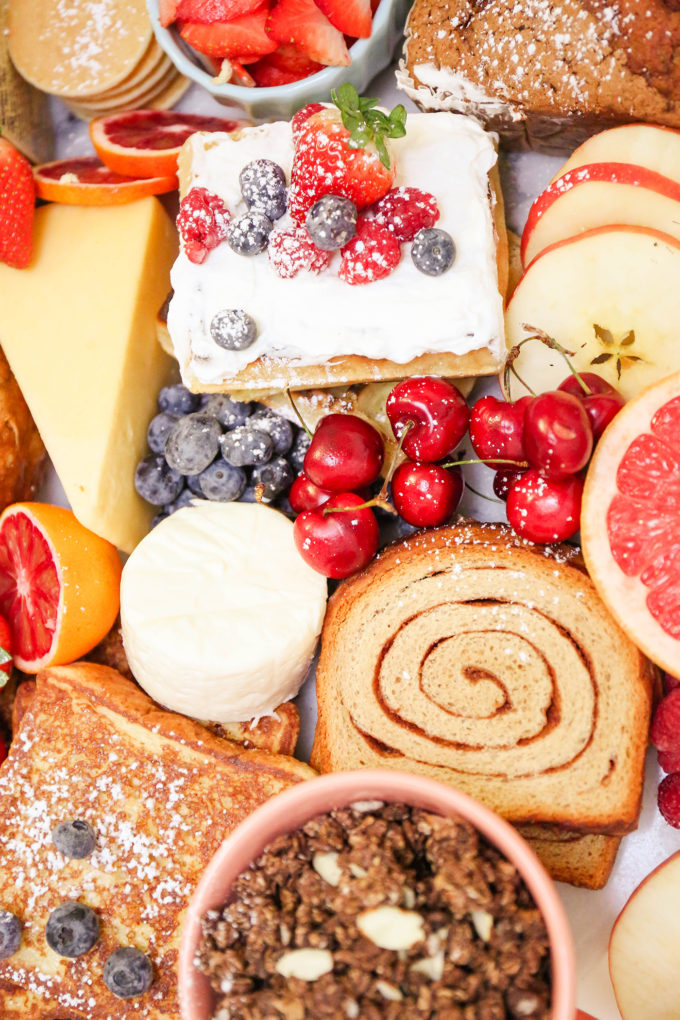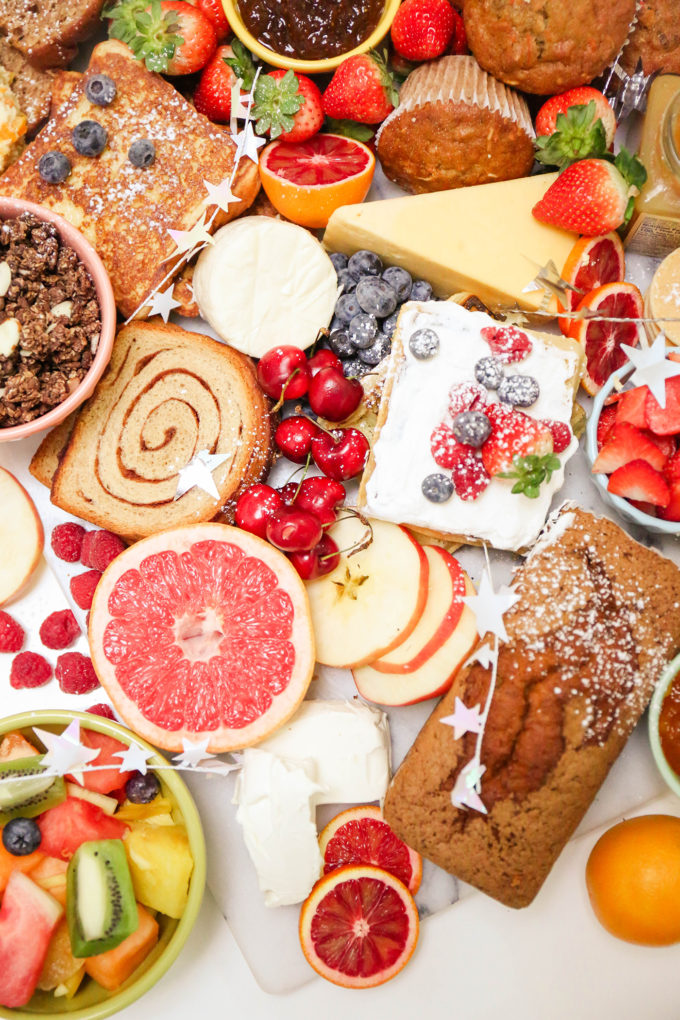 How To Assemble A New Year's Day Brunch Board
You'll need:
assorted berries (raspberries, strawberries, blueberries, etc.)
various melons (cantaloupe, honeydew, watermelon)
assorted citrus (grapefruit, blood oranges, mandarin oranges)
other fruits (apples, grapes, cherries, kiwi, pineapple)
various cheeses (gouda, brie, cheddar, cream)
breads and pastries (bagels, croissants, french toast, waffles, pancakes)
different jams, spreads, and curds
whipped cream and syrup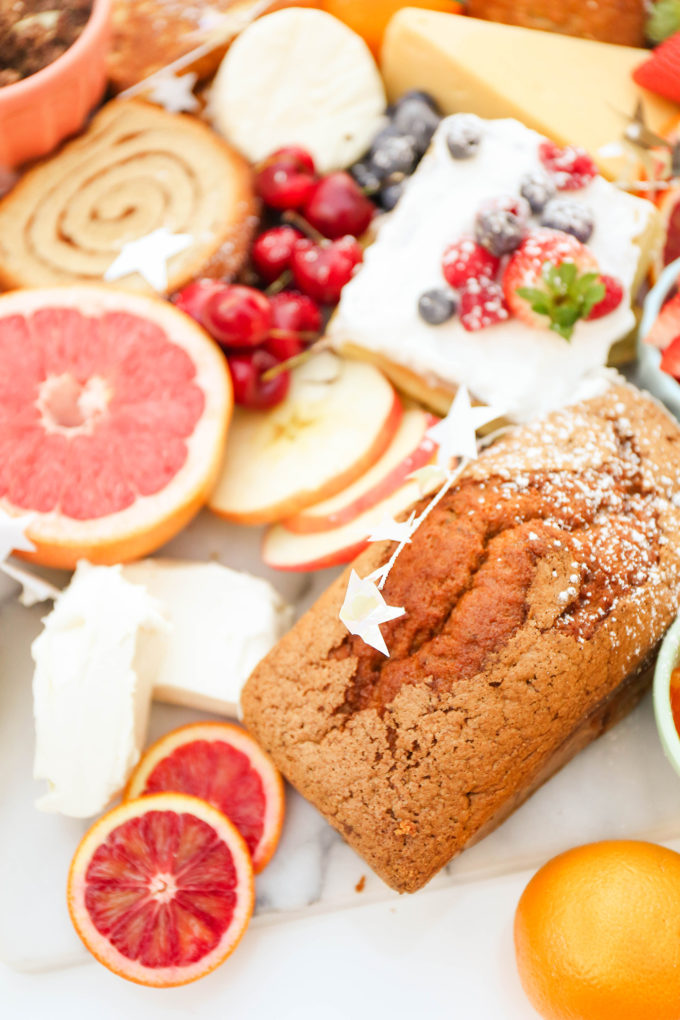 Start with a simple cutting board. We went with this marble slab that's just large enough to hold all of the fruits and breads I love. You can build your board in a few simple steps!
First, place your cheeses in different areas on the board. Next, add the breads and pastries! Stacked pancakes on toothpicks and waffles covered in whipped cream can be placed throughout. We also added muffins and some sliced fruit breads from Trader Joe's for a variety of carb options.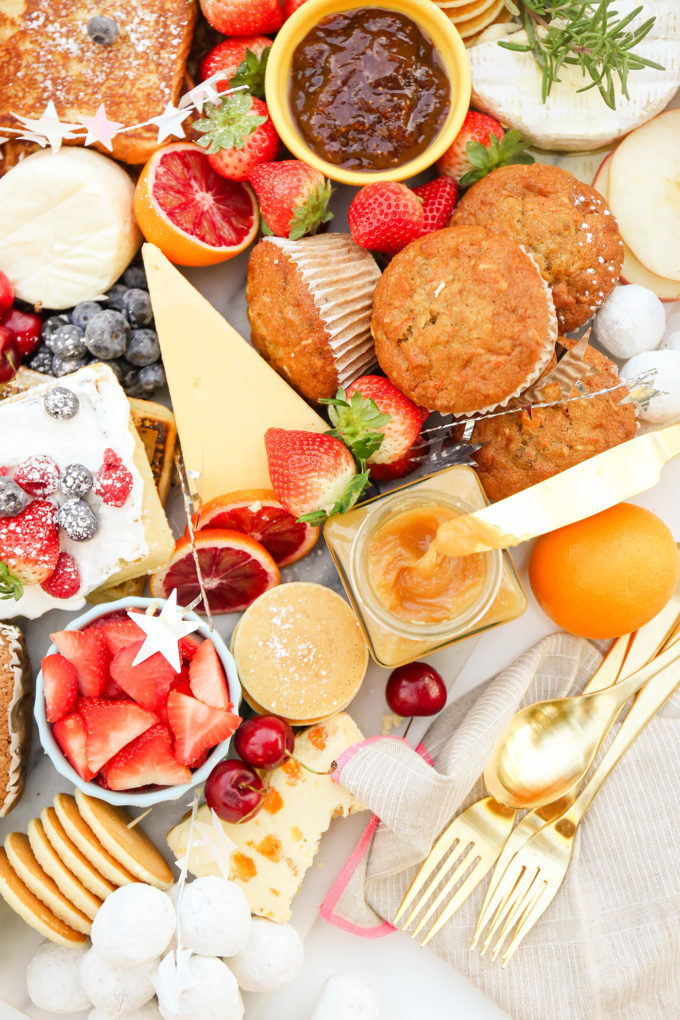 Place bowls of jam, spreads, syrup, and whipped cream around the board.
Next, fill in the holes with all of that fruit! Place melons and sliced fruit in mini bowls (like these favorite latte bowls!), and place everything in small bunches. When I was writing this, I almost wrote "clumps". That is definitely not as nice a word as "bunches".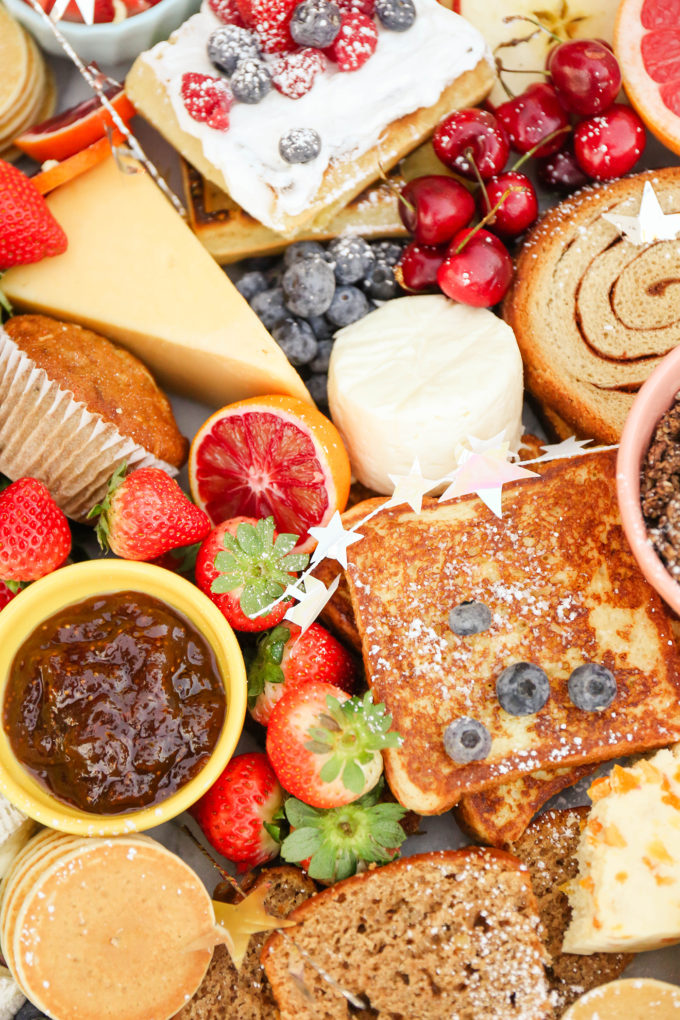 We also added some sliced apples and oranges, a bowl of chocolate granola, drizzled a little honey on some of the cheeses. A little honey and a sprig of rosemary is GREAT with some brie!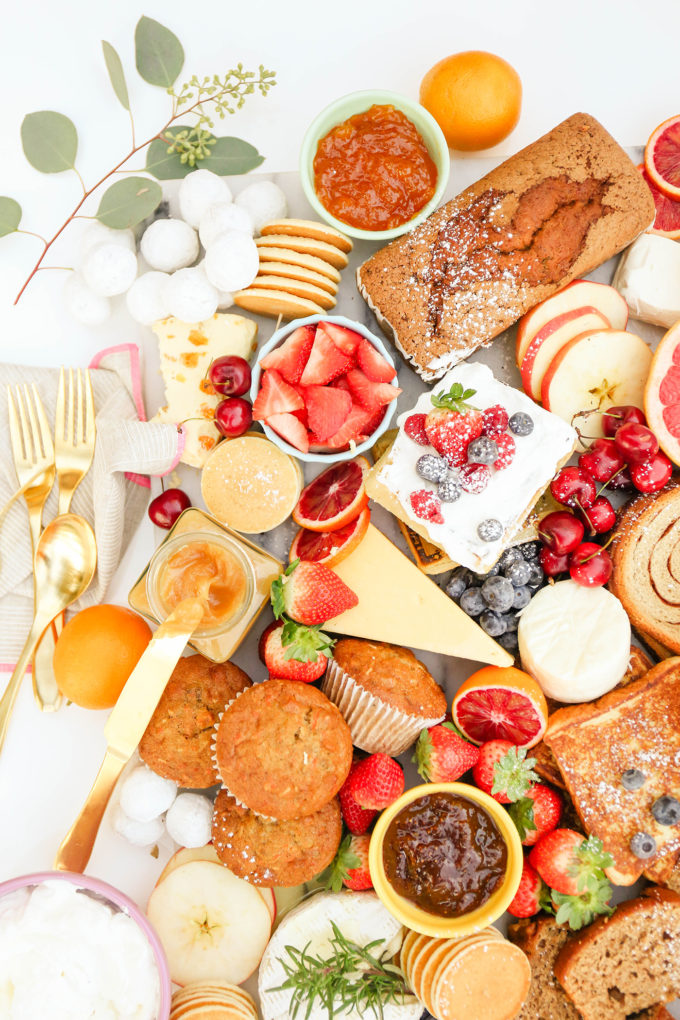 A few of the breads got a dusting of powdered sugar. Dust your sweet breads and the french toast, pancakes, and waffles. It also looks great on some of the cherries.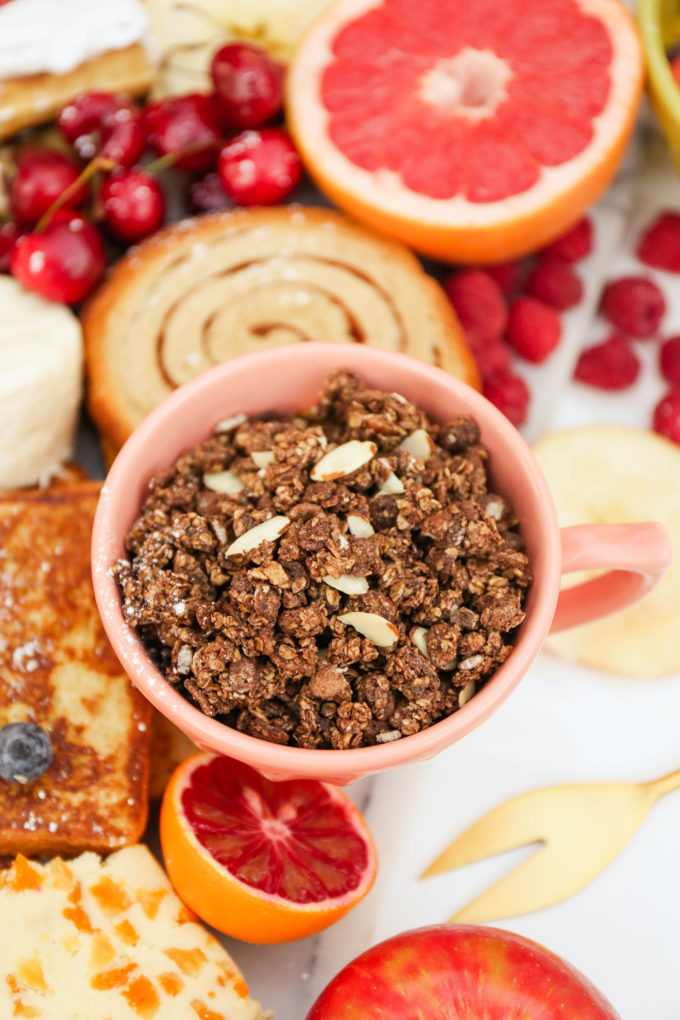 Some people prefer a more minimalist look when it comes to the cheeseboard. Don't get me wrong, I love when everything is clean. But when food is involved, I can't help myself from being a little extra during the holiday season.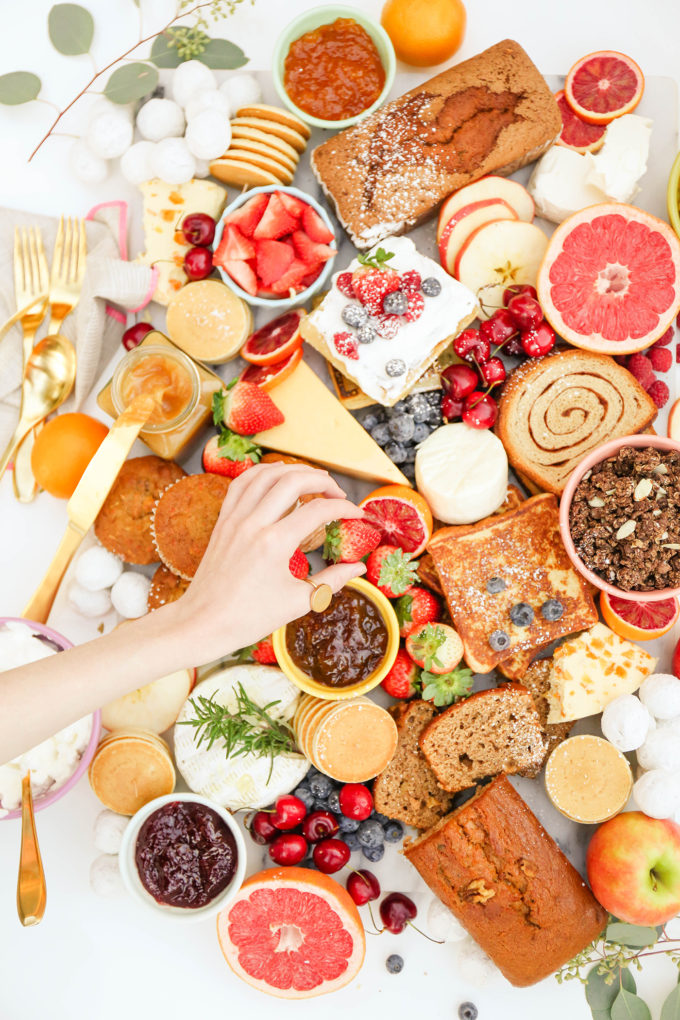 Fill In Any Holes
I feel like the more the better regarding this New Year's Day brunch board! I see a hole, I fill it with donuts. That's just how I roll. Fill in any empty-looking spaces with more fruit as you see fit.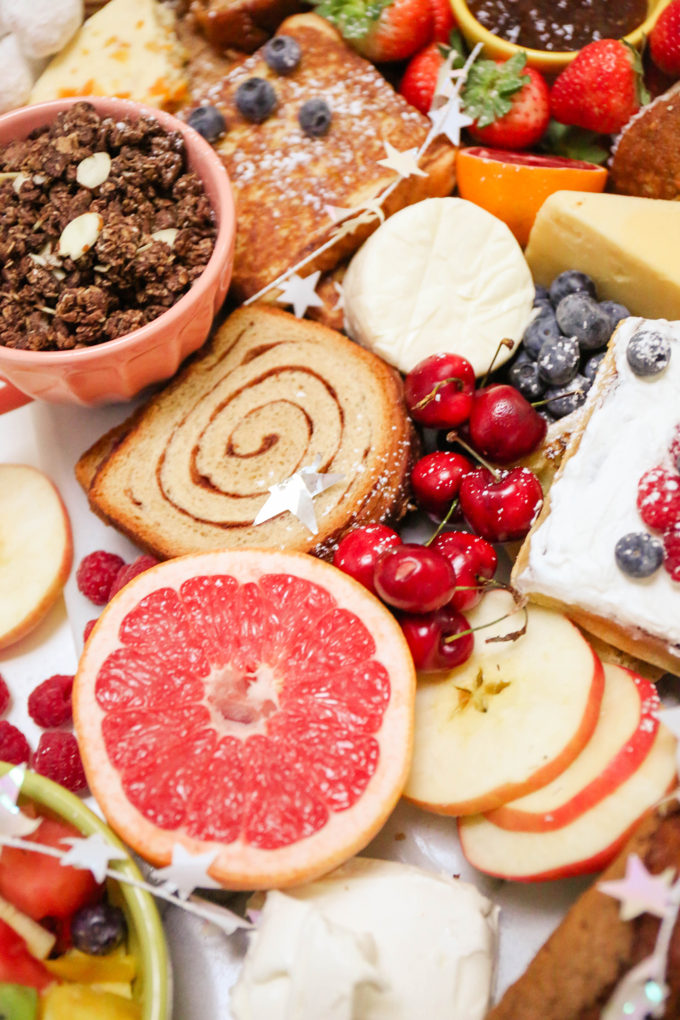 This will honestly work for every brunch under the sun, but we added some sparkly star garland to help get the point across that THIS IS A NEW YEAR'S DAY BRUNCH BOARD, PEOPLE.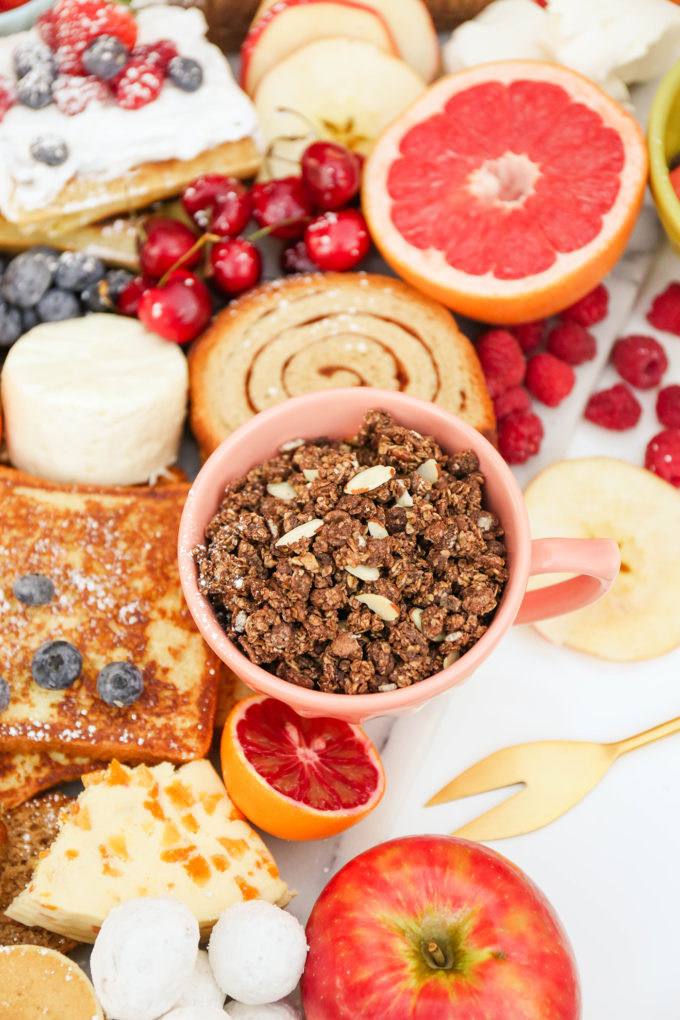 And Trader Joe's was the perfect supplier for all of my holiday bread needs. Not to mention the fact that their cheese and meat selection is quality and affordable. Hi, should I work for Trader Joe's? This isn't a sponsored post, by the way! I'm just a believer in fine cheeses for the poor people like myself.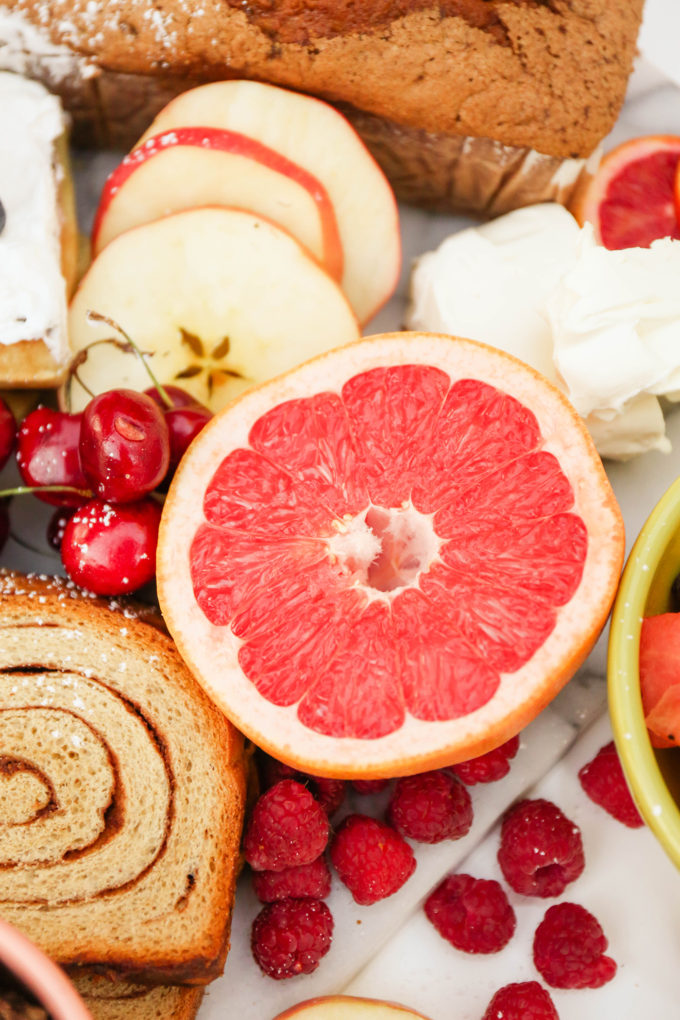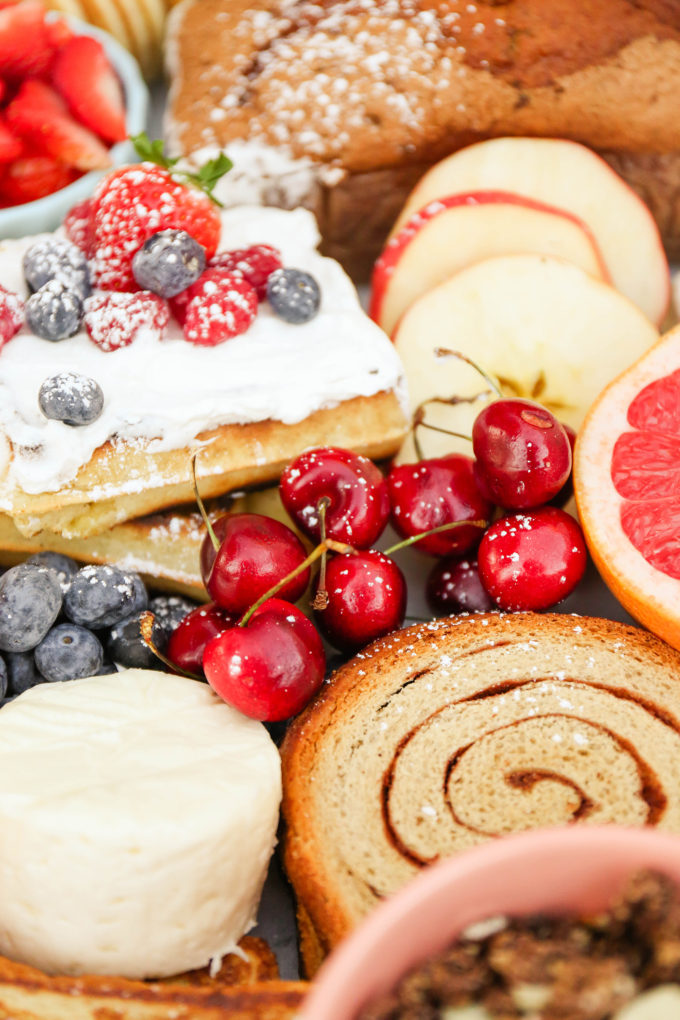 And there you have it. There are traditional meat and cheese boards and then there are fruit and carbohydrate boards. I'm not sure which camp I prefer to be in! Maybe both!

If you're wanting to pull off a get together with friends on December 31st or January 1st, this New Year's Day brunch board can help you pull off the coolest little brunch this side of wherever-you-may-be. There's no wrong way!
Now, I'm taking off for a few days to enjoy the holiday with my family and hopefully recoup some of my sanity that was lost these last few months! I'll still be sharing over on Instagram and Facebook so keep up over there! I'm a bit of an over-sharer lately.
However you celebrate, I wish you the merriest and happiest of holidays!
See you in 2020, friends. xo.
photography \\ PROPER